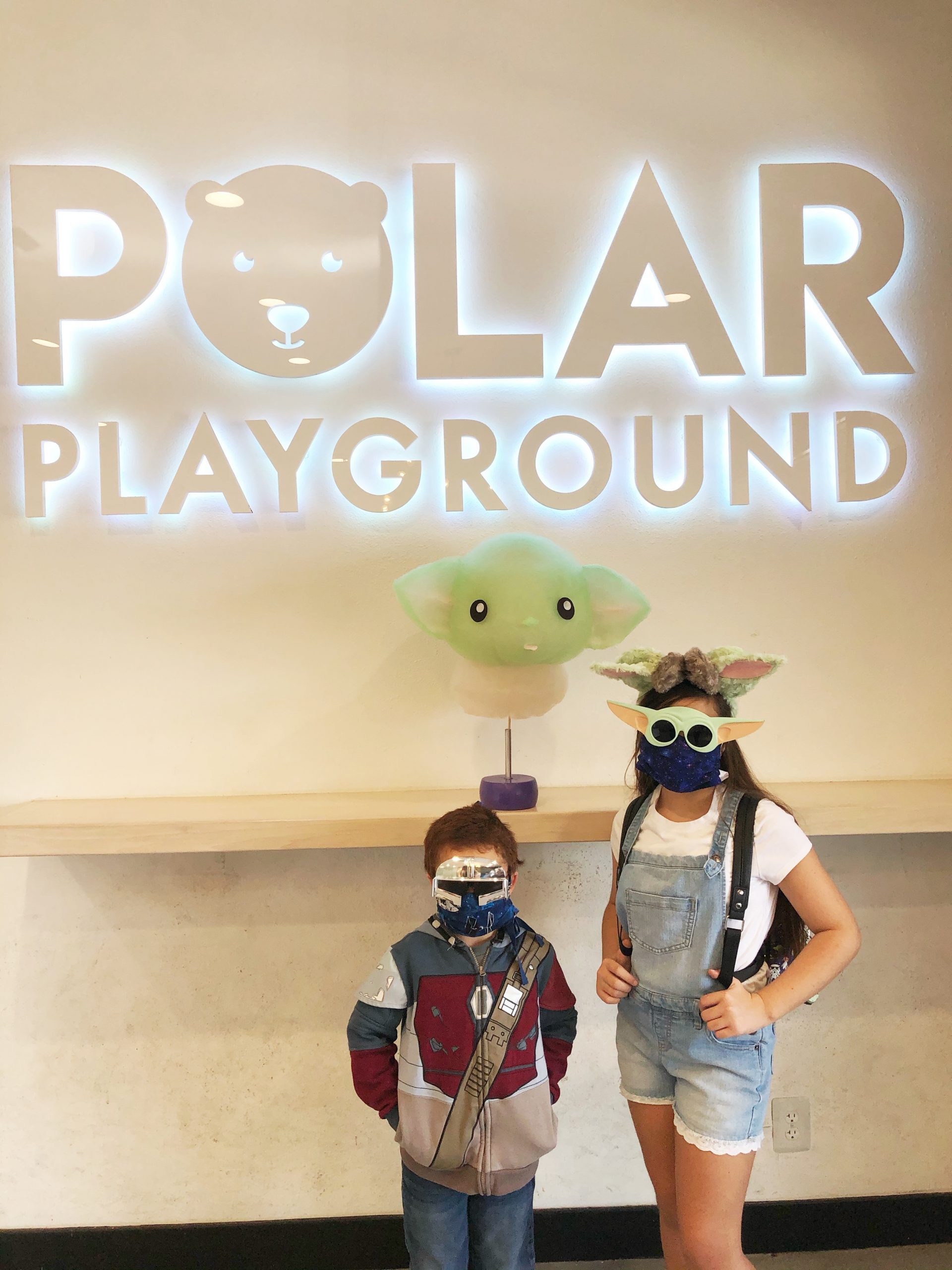 Polar Playground in Huntington Beach, CA
We went on an adventure!! We haven't been out too much but the kids definitely needed a change of scenery and a little mid week pick me up. I was browsing Tik Tok and saw this video of these adorable character cotton candy creations and found out they were local! These adorable cotton candy characters can be found in Huntington Beach, CA from Polar Playground; they even have ice cream and soft serve there too! Their hours are limited due to Covid so definitely check out their Instagram page for their latest opening hours. They are closed on Mondays and Tuesdays and are open Wednesday-Sunday from 1pm-8pm.
I would recommend getting their early to line up. We went on a Wednesday and there was still a line when we got there 45 minutes before they opened. They only sell a limited number of character cotton candy per day so to help with the demand they are distributing tickets with a return time (brings back memories of Disneyland). We got our return time ticket around 12: 30 and our return time was for 1:40; but they recommend you come back 15-20 before your return time. We ended up heading to Target which was just down the street; there are a couple of restaurants in the Target shopping center if you want to get some lunch before your return time. When you get your return time make sure to check out the sign of the characters they have available for that day so when you return you'll be prepared.
When you return you'll wait in the line to the right of the shop to wait to go in. When we returned there was only one family in front of us and it was just for safety since they are limiting the number of people that can be in the actual store. Once it's your turn to go it you'll go to the register to order and hand your ticket to the person at the register. Each ticket allows you to order two character and they limit the tickets to one per family. The characters range from $10-$12 and they are well worth the money! They also sell a multicolor cotton candy called The Northern Lights which is a variety of flavors so if you can't get a character don't worry because The Northern Lights is pretty spectacular.
We ended up ordering The Child and Baymax and oh my goodness it is so fun to watch them make these characters! The kids had so much fun guessing which characters they were making; I never knew watching someone make cotton candy could be entertaining. Once your characters are done they have these cute little cotton candy holders so you can take a picture with them or you can take them outside to get those Instagram worthy pictures as well. The green parts of The Child are lime flavored and the pink is regular cotton candy flavor; we couldn't decide what The Child's collar tasted like so if you are able to figure it out please let us know! Baymax is all white and he was Pina Colada flavored and oh so good!
I would definitely recommend bringing some water; the kids had drank all their water before we got there and we ended up having nothing to wash down after our sugary treat with afterwards. Also bring wipes, lots and lots of wipes. Little Red was wearing his Sunstaches while eating his treat and cotton candy got all over his Sunstaches; it's an easy clean up but learn from our mistake. Get there early and bring water and wipes! If you have any questions please leave a comment below and I will try to answer your questions as best I can. Thanks for following along our adventures.