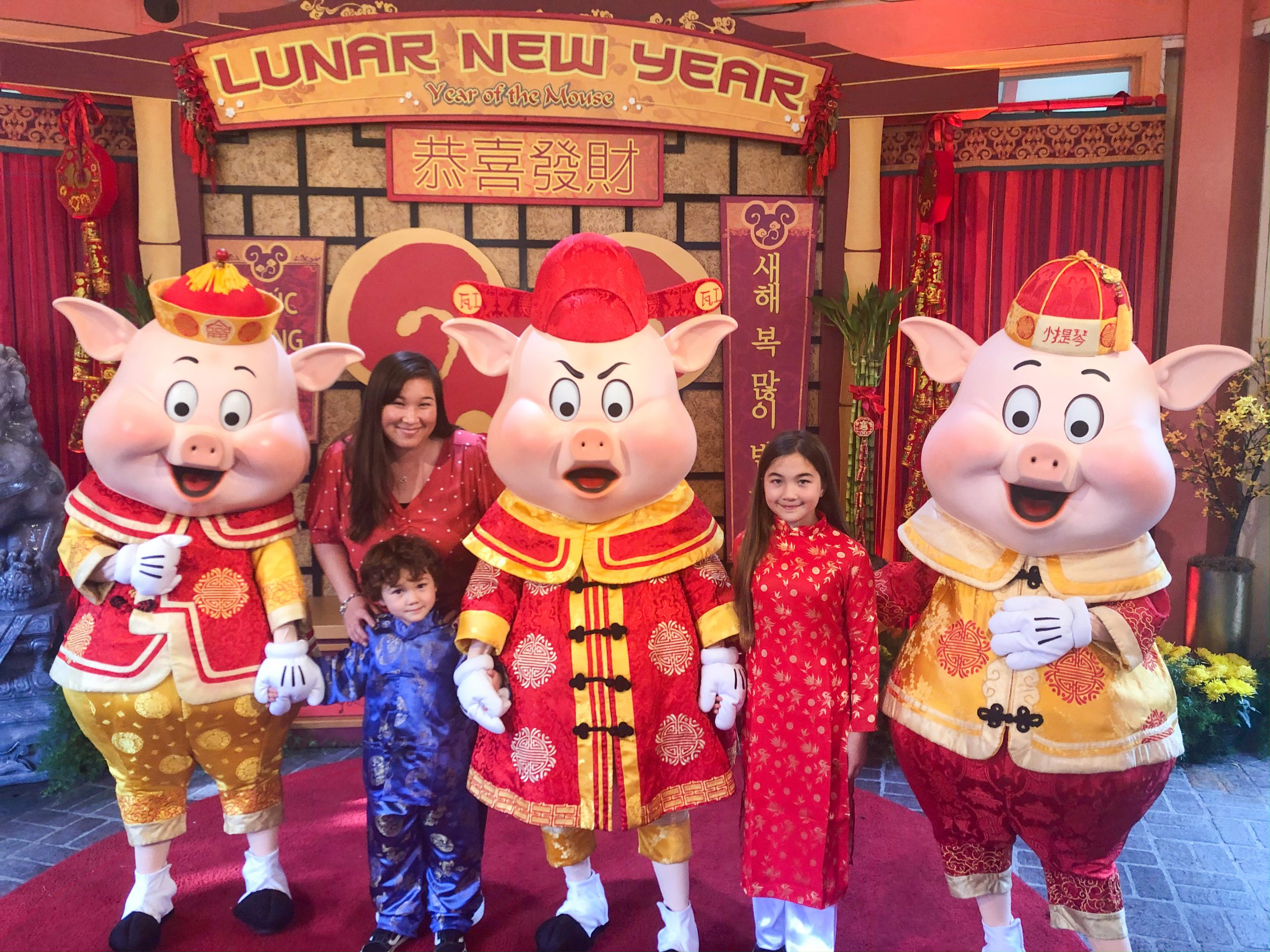 Lunar New Year Celebration at Disney California Adventure
Chúc mừng năm mới!! That means Happy New Year in Vietnamese. Lunar New Year Celebrations have started at Disney California Adventure (DCA) to celebrate the year of the mouse/rat and we spent the day exploring all they have to offer. This is one of my favorite celebrations at the parks. I am half Vietnamese and half Caucasian so I grew up celebrating Lunar New Year with my family. I love that DCA offers celebrations that allow us to share our traditions with those that might not have experienced them otherwise. They even have boards that share how different cultures celebrate Lunar New Year; below you can see how the Vietnamese culture celebrates the New Year.
To start our adventures we got a Sip and Savor Pass and tried a variety of asian cuisine they had to offer. You can purchase a Sip and Savor Pass for $42, AP discounts can be used to purchase the Sip and Savor Pass and AP's also get a free Lunar New Year lanyard! This was our first year using a Sip and Savor Pass so here are a few things we learned.
Each coupon must be attached to the Sip and Savor Pass before redeeming it.
Each coupon is good for 1 food item or non alcoholic drink.
Coupons can be redeemed at Lunar New Year Marketplace kiosk or dining locations. If you are purchasing at a dining location you will receive a tasting portion and not a full entree. Dining locations that you can use a coupon for are Lucky Fortune Cookery and Paradise Garden Grill.
You can purchase the Sip and Savor Passes from
Lunar New Year Merchandise Carts
the Sip and Savor Cart
Seaside Souvenirs
Elias & Co.
Kingswell Camera Shop
Lunar New Year Marketplace
Here is a list of the food items you are able to find throughout the Lunar New Year Marketplace.
Longevity Noodle Co.:
Chicken Meatballs and Lo Mein Noodles, Cabbage Salad with Apple-Ginger Sauce
Vegtable Egg Roll and Chilled Sesame-Garlic Noodles with Cilantro-Cashew Sauce and Toasted Peanuts
Black Sesame Mochi Donut
Vietnamese Cold Brew with Coconut Milk
Lucky 8 Lantern:
Shrimp Fried Rice with Garlic-Bacon Edamame
Smoked Beef Bulgogi Short Rib on Rice Cake and Green Onion Salad
Mandarin Orange-Green Tea Tart
Peach Sojito
Prosperity Bao & Buns:
Char Siu Pork Bao, Chinese BBQ Pork with Pickled Red Onions and Jalapeño
Mickey Chinese Hot Dog Bun
Mango-Pineapple Pastry
Lychee-Grapefruit Gin Spritzer
Red Dragon Spice Traders:
Firecracker Three Cup Chicken Wings
Shrimp & Ginger Dumplings with Soy Reduction and Sriracha Mayo
Purple Yam Macaron with Crème Fraiche
Honey-Lime Green Tea
Since lines were very long we decided to order four items from one stand so we wouldn't have to stand in multiple long lines. The picture above shows all the items that Red Dragon Spice Trader has on their menu. First one we tried was the Firecracker Three Cup Chicken Wings; I was a bit nervous about this one since the kids and I don't like spicy food but it turned out to be a favorite for all of us. It was a mild spicy and honestly I want to get it again next time we go. Next we tried the Honey-Lime Green Tea, there was actually a honey stick in the drink but by the time we found some where to sit it had fallen to the bottom. The drink was ok, it had a hint of ginger so I think the kids thought it was "spicy" for them; good but I would probably pass next time on this. The Shrimp & Ginger Dumplings with Soy Reduction and Sriracha Mayo was next on our list and it was a let down. Maybe because I am half Vietnamese and I grew up eating Dim Sum regularly but I really didn't enjoy it and the kids didn't like it either. Last on our list was the Purple Yam Macaron with Crème Fraiche; the kids LOVED it! Can you tell by Little Red's messy face and hands?
We knew we wanted to visit the special meet and greet characters they have for this event so we headed over to Paradise Garden to hop in line. While not all characters are guaranteed we were able to meet Mulan and Mushu as well as the Three Little Pigs dressed in their Lunar New Year best! They also have Mickey and Minnie dressed in their Lunar New Year outfits but time just didn't allow us to meet them that day.
They also have activities for kids which was a much needed break from going from activity to activity. They have a coloring station where your kids (or you) can color a fan or you can head over to Paradise Gardens and write a wish for the Lucky Wishing Wall. While you are there you can enjoy traditional music and dancing from rotating Chinese, Korean and Vietnamese folk dancing groups each weekend.
Don't forget to catch Mulan's Lunar New Year Procession at Paradise Gardens Park, it is one of our favorite shows and they even have a dancing dragon! It is a great way to see Mulan, Mushu, Mickey, Minnie, and other favorite Disney characters during the celebration with out standing in line. They have multiple show times throughout the day but plan to get there early because seats run out very quickly since it is a fairly small seating area. Before you say goodnight make sure to watch Hurry Home- Lunar New Year Celebration. It is a night time water show spectacular that is scheduled with the first performance of World of Color (WOC); so you will want to get a fast pass for WOC first thing when you get to the parks.
I hope you enjoyed our adventures for the Lunar New Celebration at Disney California Adventure. The fun ends February 9, 2020 so make sure you check it out before it's gone!